Beard Balm vs Beard Butter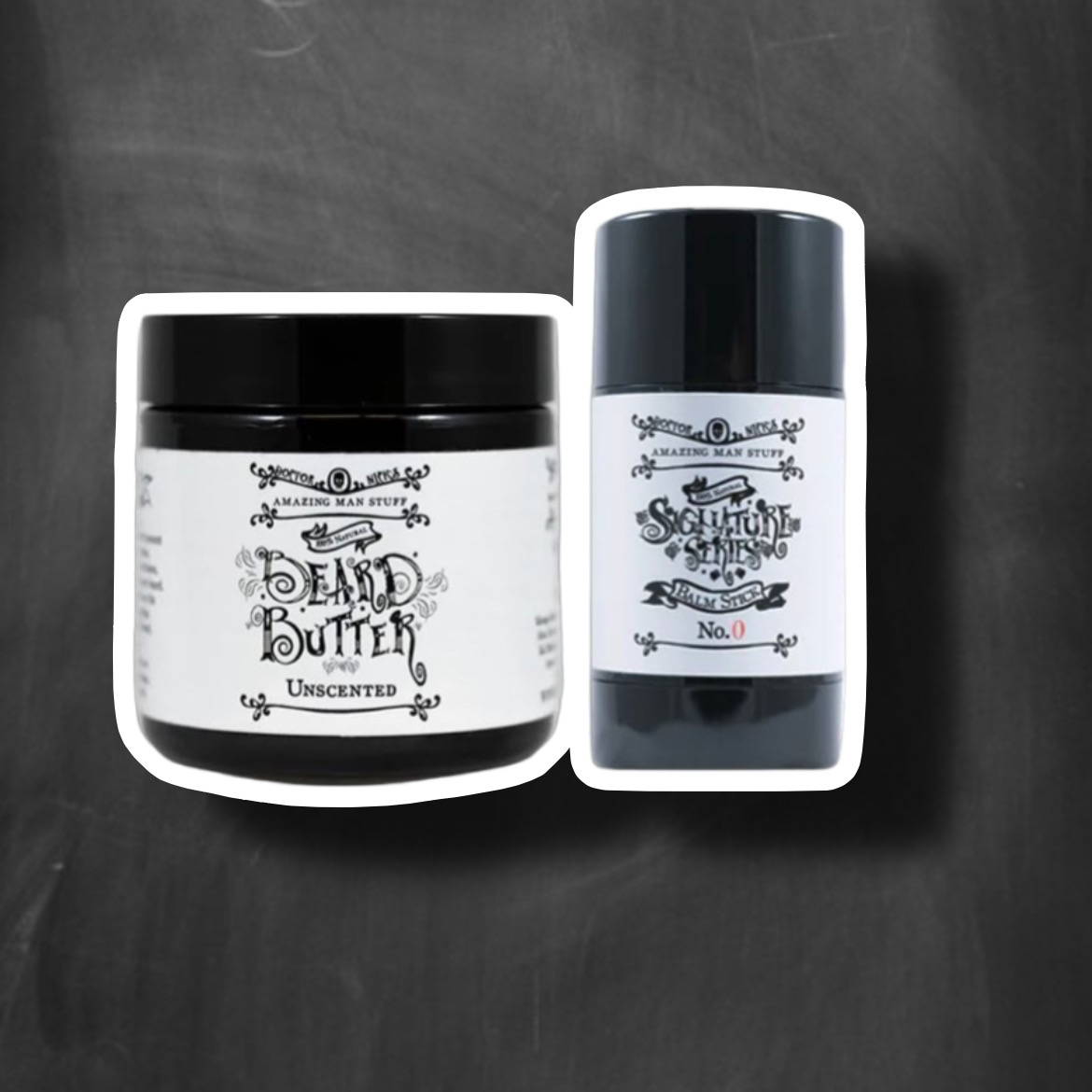 Beard butter vs beard balm is one of the most common beard care questions on the internet, and we here at Doctor Nick's Amazing Man Stuff are here to help! Two great product types with different ingredients, different purposes, and different application methods.
Ingredients - Beard butters and beard balms share some ingredients, but they also have some key differences. Beard butters are made up of oil and butter ingredients. Some examples would be: Mango Butter, Shea Butter, Avocado Butter, Aloe Butter, Sunflower Oil, Sal Butter, Sweet Almond, Jojoba Oil, Argan Oil, Borage Oil, and Marula Oil. Beard balms often have all of those same ingredients as well. The main difference is that beard balms often have wax ingredients in addition to the oil and butter ingredients. Commonly you will find Shea Butter and Bees Wax. The Shea Butter offers some body and thickness to the balm. Shea Butter also adds fatty acids that give deep nourishment to the hairs. Bees Wax adds a firm ingredient to offer natural hold and styling.
Purposes - Beard butters and beard balms share the common purpose of making your beard look and feel as good as possible. Beard balm and beard butter should be exclusively for the hairs and not meant for the skin. Beard balm will offer some nourishment for the hairs with the fatty acids we mentioned. The main purpose of beard balm is for styling and hold. This is a natural and safe way to get your beard to stay with the style you would like. Beard butter will offer a little hold and styling, but the main purpose is deep nourishment for the hair.
Application Methods - Beard balm is applied by melting the balm in your palm and then working throughout the beard hairs. Focusing on the outside of the beard to lock in the style and keep the balm away from the skin. Beard butter should be applied in a similar way, but the focus should be getting the butter throughout the beard to all of the bear hairs. Both should be combed or brushed after for finishing style.
Now sit back and enjoy that luscious man mane of yours, while you look and smell great!
Dan C
Master of Marketing
Doctor Nick's Amazing Man Stuff